About
Our small business
The Laflanelle company was born from a passion for beautiful materials and was born in April 2019.
Although new arrivals, the experience of its team is already long, particularly in the export of French products for the home. Its purpose is to share these beautiful materials and therefore to offer you:
• articles selected for their quality
• articles of European origin
• your satisfaction by being available
• 14-day money back guarantee
Our products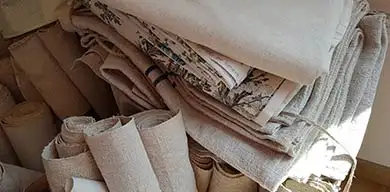 A careful selection from European manufacturers
We are gradually expanding our offer of fabrics and fabrics and we can also meet your requests.
Our desire to share
Because we believe that commerce, even online, requires real exchanges, we are fully available and whatever your need, we will be happy to exchange with you to provide you with our advice, answer your questions or simply collect your comments.
We always strive to offer our products at the best price and to send them to you in the best conditions, wherever you are, do not hesitate to tell us about your satisfaction or dissatisfaction.